Carrie Fell
Carriefell.com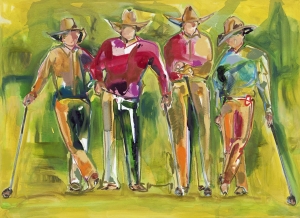 "Posses"
Available as an artist hand painted edition @ 40"X55" or a non painted canvas giclee "version" in three sizes!
"Posses"
Category:
Open Editions
Media:
Giclee Canvas
Framed:
Gallery Wrapped
Availability:
Contact Gallery
Currently none available but contact us and we'll see if we can find one for you!
Contact: Sales@carriefell.com
or fill out the contact form.